Biology, BioTechnology, and Health
Real human specimens and digital interfaces allow you to explore the unseen systems inside each of us. Presented by Ann & John Doerr

 

Topic: Humans anatomy and physiology
Experience: Observe human specimens, Interact with Anatomage, a 3D anatomy platform and AR
Timing: 30 minutes
Ages: 10 and up

Explore More

Innovate with DNA by transforming living organisms and designing a virtual creature.

 

Topic: DNA, biotechnology
Experience: Use real lab gear to engineer multi-colored bacteria, and code a virtual creature's behavior 
Timing: 20-60 minutes
Ages: 8 and up

BioDesign Studio

Create and explore with new biomaterials, like algae string, or learn more about DNA in our biology workshop.

 

Topic: Biology, biotechnology
Experience: Experiment and discover with lab activities 
Timing: 20-30 minutes
Ages: 8 and up

Explore More

Explore solutions to critical health issues, from simple and elegant to powerful new technology. Presented by El Camino Hospital. 

 

Topic: Health Innovations 
Experience: Digital innovation stories and hands on experiments 
Timing: 20 minutes
Ages: 10 and up

Innovations in Health Care
Engineer, Build, and Create
Design, build and test! Create a device to launch a payload into the mountains or tackle one of our other engineering challenges.

 

Topic: Problem-solving and engineering
Experience: Build, test and iterate
Timing: 30+ minutes
Ages: 6 and up

Explore More

Step into the role of a cyber sleuth and learn all about Internet safety.

 

Topic: Cybersecurity
Experience: Protect a network from viruses, learn cryptography and solve a cyber security mystery
Timing: 40 minutes
Ages: 8 and up

Explore More

Social Robots

Build a robot to help with a task using real sensors and actuators. Customize your robot and imagine what it could do!

 

Topic: Computational Thinking
Experience: Build your own robot with input and output blocks 
Timing: 25 minutes
Ages: 8-12

The Innovator

Design and ride your own virtual coaster!

 

Topic: Fun and physics
Experience: Digital build and thrills
Timing: 10 minutes
Ages: 5 and up
Earth and Space
Explore the whole sustainability landscape: where we live, what we eat, how we move and more. Be inspired to take action.

 

Topic: Sustainability and solutions
Experience: Optimize the sustainability of Bay Area cities, See stories of new Tech solutions and the people creating them, explore the interconnected system on our planet, be inspired to take action
Timing: 60 minutes
Ages: 10 and up

Explore More

Innovators share their stories of key issues affecting society and the solutions they created to address them.

 

Topic: Sustainability
Experience: Watch, discuss, reflect
Timing: 12-40 minutes
Ages: 10 and up

Explore More

Explore the wonders of space, plan your exploration of Mars and test your skills in our JetPack chair.

 

Topic: Earth and Space Science
Experience: Explore celestial objects from James Webb Space Telescope. See a View from Space with Science On a Sphere®  and visualize global weather, migration and even earthquake patterns
Timing: 20-40 minutes
Ages: 6 and up

Explore More
Art, Music, and Technology
Animaker

Enter a forgotten temple energized by advanced technologies and meet Animaker — a curious robot powered by artificial intelligence.

Wave Atlas

Use hand-tracked gestures or a controller to spawn new creatures, then watch them evolve, adapt and interact.

Reactable

Instantly combine instruments to create music by simply placing cubes on an interactive tabletop.

TechGram

Deconstruct our logo to make and display your own designs!

Adobe Wetbrush

The most realistic oil painting tablet on the planet. Mix colors, see your brushstrokes and create a masterpiece.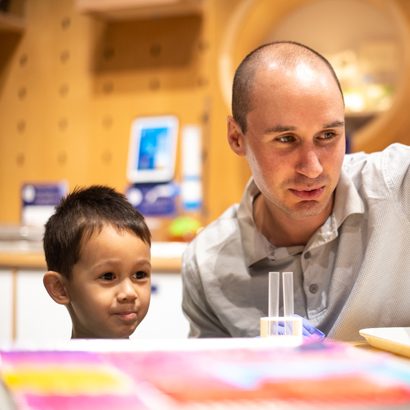 Where Learning Meets Wonder
Unravel mysteries as vast as the cosmos and as personal as your anatomy.  Explore how technological innovation is changing our lives and helping us tackle big challenges. Design a robot and a virtual creature.  Be inspired to make our world a better place! Top it off with an IMAX film and make a day of it!