Accessibility
When we say inspiring the innovator in everyone, we mean everyone!
We are constantly working to ensure that The Tech Interactive is accessible to people of all backgrounds and abilities. We always welcome feedback on how we can improve accessibility.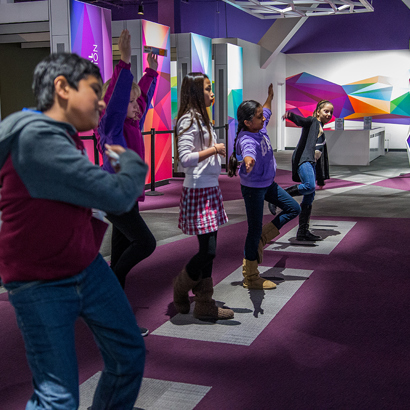 Museums for All
Admission fees support the mission of The Tech and its educational programs and activities. But these fees should not prevent someone from enjoying our galleries. If you cannot afford the full admission fee, we offer complimentary admission as part of the Museums for All program. Learn more about this program to request complimentary access to The Tech Interactive.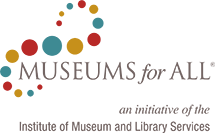 Mobility and Physical Access
The Tech Interactive has two adult sized manual wheelchairs that guests may borrow for free. They are available on a first-come first-served basis. Please see a staff member at the information desk for assistance. 
Seating is available throughout The Interactive for guests who just need time to rest their legs!
There are no stairs to enter The Interactive. Once inside, stairs, escalators and an elevator provide access to all three levels of The Interactive.

Sensory Information
Quieter times to visit
We know that The Tech Interactive can get loud. Luckily, some times are generally less busy than others:
Mornings: Beat the rush and get to The Interactive early!
September-May: Our down season is generally less crowded than our summer months. Escape the rain for a day of fun at The Interactive.
Members hours: Members receive early access to The Tech Interactive on the first Sunday of every month.
Crowd size is highly variable and depends on a wide range of factors including holidays, weather, school vacation schedules, and more. Call our Group Reservations team with questions about the best time to visit: 1-408-294-8324.

IMAX 
The IMAX Dome Theater at The Tech Interactive includes four spaces for wheelchairs with four adjacent companion/semi-ambulatory seats. Unfortunately, we cannot guarantee that parties will be seated together. A staff member will escort visitors to these seats from the elevator. Our staff is also happy to provide printed scripts for select IMAX films upon request. If you need any other assistance, please notify IMAX staff at least 20 minutes before show time.

Bathrooms
Wheelchair-accessible bathrooms are available on every floor of The Tech Interactive. A gender-inclusive bathroom is located on the Ground Level.
Changing tables are available in every bathroom. A nursing station is also available on the lower level (it is not wheelchair accessible at this time). Water fountains are located near the bathrooms.

Visual and Language Access
The majority of videos in our exhibits have subtitles in both English and Spanish. The majority of the written labels in our exhibits are provided in both English and Spanish.

Service/Assistance Animals
Service animals are welcome at The Tech Interactive. Service animals, as defined by the Americans with Disabilities Act, are dogs trained to do work or perform specific tasks for a guest with a disability. Other animals are not allowed in The Tech Interactive.

Lockers
Lockers are available to rent at The Tech Interactive for 50 cents per use. We have a limited number of lockers that are large enough to accommodate luggage.

Membership
Allows unlimited visits for a year at less than the cost of two visits
Good option for people with limited stamina. No need to see everything in one visit — stay 15 minutes or 5 hours, then return another day for free!
We are committed to making The Tech Interactive accessible to our entire community.
If you have a question not covered here, please contact us by phone 1-408-294-8324 or send us an email.